San Antonio nonprofits received more than $1 million in value from skilled volunteers through a program started during the COVID-19 pandemic by Social Venture Partners San Antonio (SVPSA). When it launched with 100 organizations in October 2020, Catchafire, an online skilled volunteer resource, began filling a skills gap created when many nonprofit organizations were forced by the public health threat to cease or substantially modify operations. Since then, the volunteer resource service has continued to offer capable professional expertise in marketing, fundraising, strategy development, information technology and human resources to numerous nonprofits organizations.
"The pandemic created chaos and unprecedented challenges for most businesses, including nonprofits; so we had to find a way to help community programs survive, knowing we had fewer staff to meet ongoing and new demands," said Becky Dinnin, SVPSA's Executive Director. "We discovered a resource that matches experienced professionals from all over the world who want to give nonprofits their time."
The timing could not have been better or the need more acute, Dinnin said. The problem was that the expanded resource required a significant amount of funding. So SVPSA committed $20,000 and made calls to other funders to raise another $80,000. Local philanthropists joining SVPSA in the effort included the San Antonio Area Foundation, the H.E. Butt Foundation, Methodist Healthcare Ministries, DOCUmation, and LISC San Antonio. In the first year, 100 nonprofits were selected for an annual subscription to use the program for as many projects as they wanted. The value returned to the community after 12 months was $466,000.
"Our donors appreciated that funds were leveraged to create substantial value for nonprofit organizations at minimal cost. The commitment of professionals to freely provide their time and expertise proved to be substantially more cost effective than simply hiring consultants," Dinnin said. "What we experienced is that volunteers gave four times the value – so our nonprofits could do more with their capital."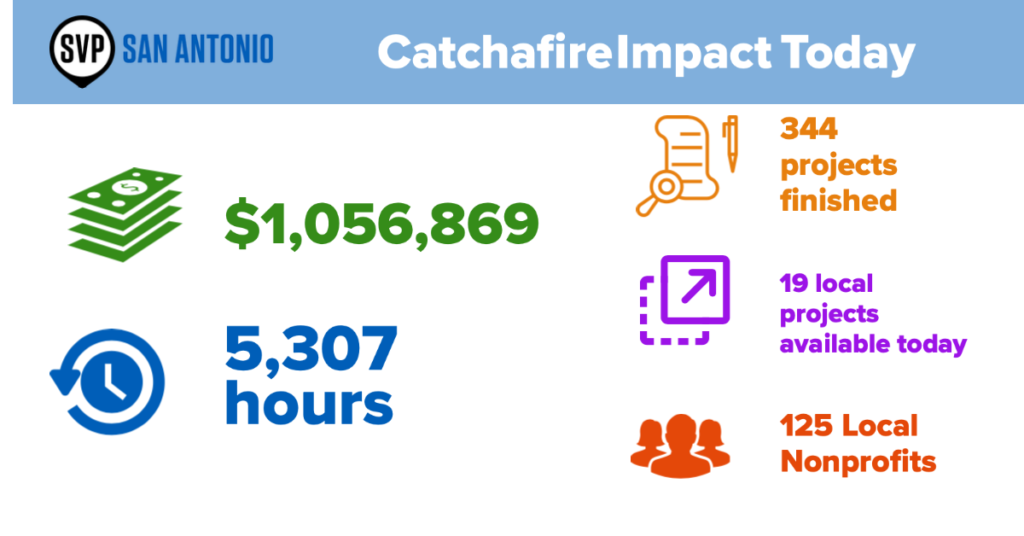 Philanthropic partners did not hesitate to invest again for another year. In October 2021, the group added more funding partners and more nonprofits. This time, the Nancy Smith Hurd Foundation, the San Antonio Area African American Fund and CapTrust funded subscriptions and the number went up to 125 organizations.
The second year, the amount increased even faster. By June 2022, $1 million in value had been reached. The value of professionals volunteering their time through Catchafire now averages $65,000 every month, Dinnin reports.
We thought it was too good to be true, Dinnin said. "We tried it out and were surprised to find Catchafire made it easy to give time – and their personal dashboard adding up the cost saved if the nonprofit had to hire staff or a contractor provided us measurable value of the contributions."
Still skeptical, Dinnin said she talked to nonprofits using the resource and they "raved about how much they love the simplicity. Adding to that, when executive directors reported the value they were saving to their boards and donors – everyone got excited."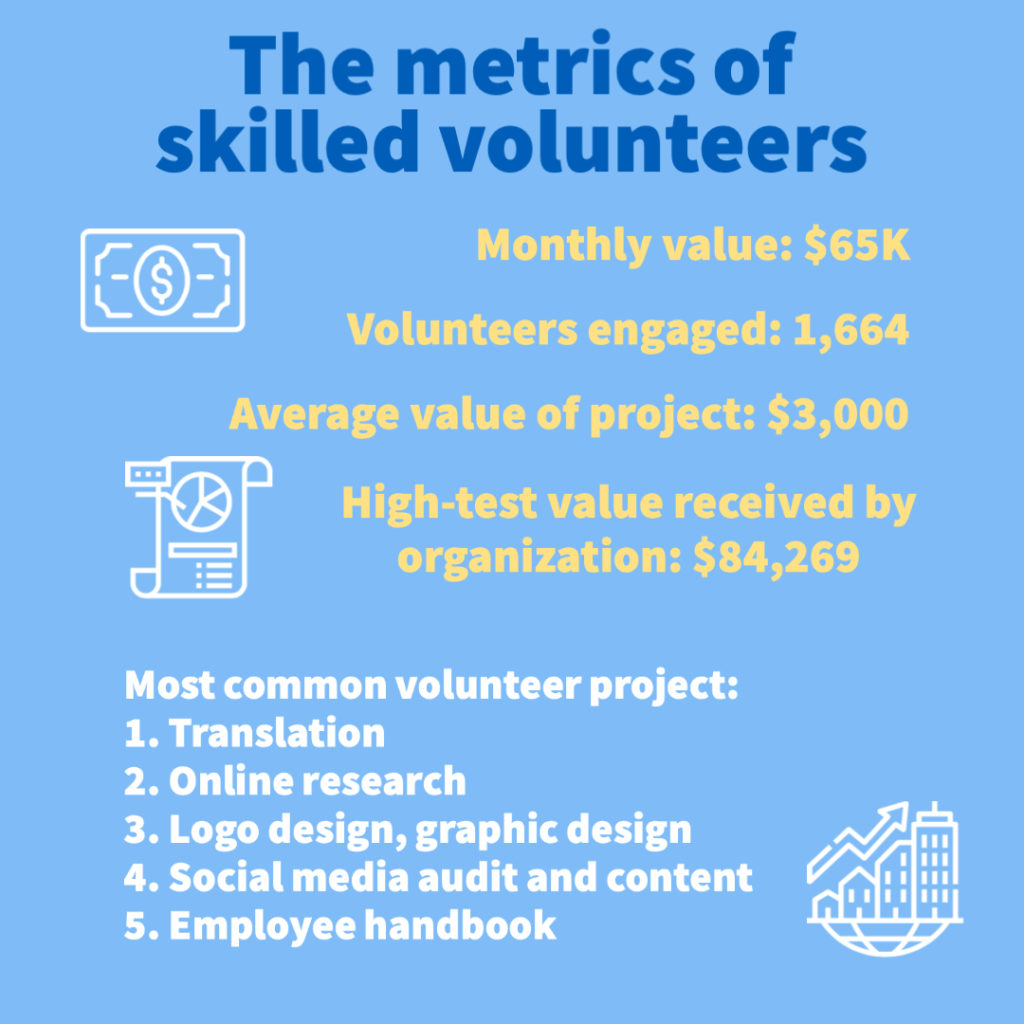 Each volunteer and nonprofit organization is encouraged to give feedback on their projects. Read what nonprofits are reporting:
To prepare for the Fall Rollout, nonprofits are invited to sign up to request the sponsorship for the next year. All nonprofits that have received their approval from the IRS as a 501(c)3 organization in the area can request to be considered by clicking here.