San Antonio's Masters Leadership Program (MLP) and Social Venture Partners (SVP) share a common goal: to improve our community by supporting local nonprofits. MLP, which celebrates its 20th anniversary next year, does this by preparing and connecting proven leaders to serve on the boards and committees of nonprofit agencies and civic commissions. To date, it has prepared more than 860 individuals to serve on more than 1,000 nonprofit agency boards.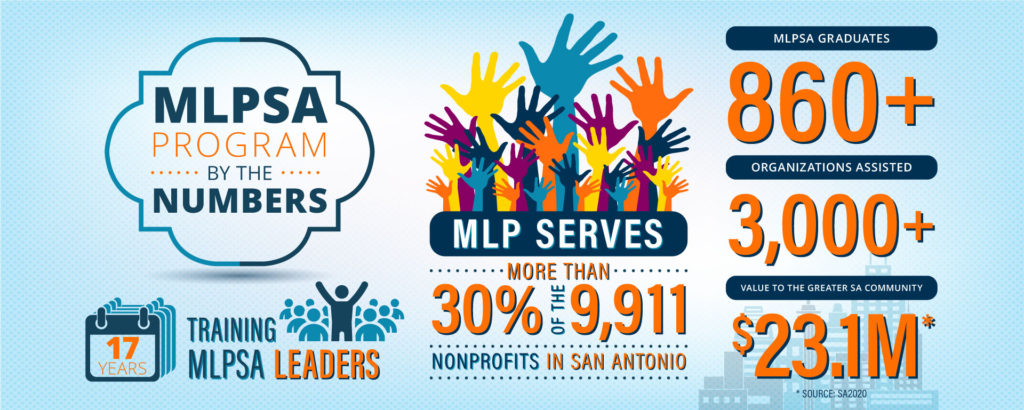 "We've groomed and trained hundreds of people, and we know the need will be greater this year," said Michele Hoskins, Executive Director of Masters Leadership Program. "Statistics show that one in four nonprofits will fail in the next few years, so it's important that we provide the tools that can prevent this from happening. We all want to build a better community – in San Antonio or wherever life leads us."
Michele was drawn to SVP by two of its partners, Billy Cox, who currently serves as Chair of SVP, and Event Committee Co-Chair Jamie Kowalski. She participated in the SVP Fellowship program and found the knowledge and insights invaluable to her organization.
"SVP provides the expertise and building blocks to better understand outcomes," Hoskins said. "I've served on boards several times, and this has changed my perspective on board roles and responsibilities and board engagement. We are truly partners in our mission and everyone is responsible. Relationships are the currency and the key to understanding expectations and to making it a meaningful experience for each board member."
In addition to expanding her approach to board engagement, Hoskins says she found the tools and resources to approach fundraising particularly helpful. Catchafire has also been key to expanding capacity and drawing on other skilled volunteers.
"Resources are not just financial," she continued. "Having access to the Partners, having lunch and listening to them was really valuable. The fundraising strategies they shared are more than just best practices – they are strategies that really work."
In addition to preparing leaders for board service, MLP also helps identify opportunities for professionals to share their expertise as panelists and presenters. Through the MLP program, participants are exposed to diverse environments throughout San Antonio. Cultural diversity and inclusion are a major focus, infused into the entire MLP curriculum.
"As we train board members, we are raising that level of conscientiousness so that they are better prepared to deal with issues once they are serving. MLP participants serve on boards across the United States," continued Hoskins. "And these skills are transferable not just to the board room, but also to the workplace."